SPECIAL OFFER
Add God's Greatest Gifts
Why this book was written...
Now more than ever, Satan is launching his most violent attacks against the children of God. But our Father has provided us with every weapon necessary to overcome the enemy and continue gaining ground! In God's Greatest Gifts, Joyce explains how to build a strong biblical foundation, and rise above the challenges of everyday life.
God does not intend for you to spend all your time fighting the enemy. He wants you to enjoy a life of freedom and complete liberty. By using the principles outlined in this book, you will learn how to effectively use the weapons God has given you to live a victorious life!
You will learn:
How to be changed by the power of the Word

How to wield the weapon of the Word

How to exercise authority in the name of Jesus

The power of the blood covenant

Why Satan is afraid of the blood of Jesus
Be an overcomer through claiming the power of God's greatest gifts.
What Customers Are Saying
⭐⭐⭐⭐⭐
"His Name, His Blood, His Word. She did a fabulous job on this study. I give it out whenever I am able. I cannot recommend this enough. Most informative. Easy to follow. Most excellent and well thought out study. This is my absolute favorite."
Janet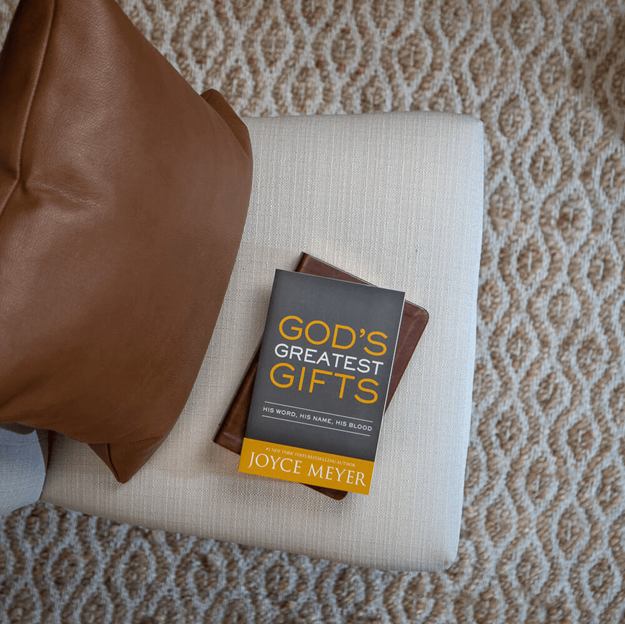 ⭐⭐⭐⭐⭐
"This book taught me so many things. I realized the importance of having total reverence when using the name of God and Jesus. I didn't realize how often we use those precious names as we use everyday mundane words. There is so more power in those names and we need to honor them and learn how to use the power that they provide. Joyce explains clearly and with scripture as support to make her point on this matter as well as many other matters in this book. I know that the author is blessed and inspired by the Holy Spirit. This book is a blessing to my Christian life."
Noemi Saed
Frequently Asked Questions

Is the book paperback or hardcover?  Paperback.
Will you keep charging my card each month?  Absolutely not. We do not offer a subscription program.
Do you accept Paypal?  Yes. You'll see the option after you enter your order details at checkout. 
Is this website safe? Yes! Our site is SSL certified and 100% secure. We have securely processed over 200,000 orders and have an extremely high satisfaction rating. We've been in business since 2017.
What If I am not happy with the book? We offer a 100% satisfaction guarantee. We always do whatever it takes to make sure you are happy.
Where will my book ship from? Your order will be shipped from our warehouse in North Carolina and will arrive in 3-5 business days.
This is a gift, will my recipient know how much I paid? No receipt or invoice is ever included in the packaging so no need to worry.
---
Don't Take Our Word For it! Here's What Our Customers Think:
"I am very happy with my purchase. I will be purchasing more for my family and friends. God bless you all. " - Suzanne W.

"Love my purchase! Already received a compliment on it. " - Joseph A.

"The ordering was simple and the items arrived quickly. I will look forward to my next order. " - Beverly R.